10 Dec

When the Future Comes / Cumbria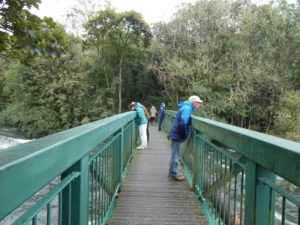 Wallace is one of the artists working with Rachel Jacobs on 'When the Future Comes', investigating how, with a changing climate, the future is perceived across five places in England.
In Cumbria, we devised an experience for an invited group of people to 'think with a river' along the Windermere-Leven watershed. Wallace created a booklet of 'prompts' for each person to take when spending their own time by the waters.
In October 2021, we came together to talk, have a meal, be by the River Leven, and engage with Jacobs' Future Machine, a device for keeping the words one wants to speak to and into the future.
There are  plans to continue the project annually, along more Cumbrian watersheds.
www.whenthefuturecomes.net/cumbria/
Photo: Footbridge over the River Leven, by Rachel Jacobs