06 Feb

X = 2140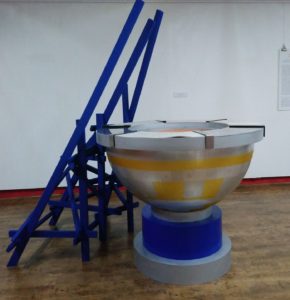 In the coming 120 years, how can humans decide to dismantle, remember and repair the lands called Sellafield?
Florence Arts Centre, Egremont, Cumbria, February – March 2020
www.facebook.com/nuclearsitefutures
The exhibition at FAC closed with the first lockdown. The sculptures may be exhibited again in Liverpool, 2022-23. 
See Wallace's article: 'The Times of Caring in a Nuclear World. Sculpture, Contamination and Stillness'.
There will be five human generations between 2020 and 2140, the year by which the Sellafield site is to be decommissioned, its purposes changed and its legacies cast. Each generation will make decisions on this future while enduring unpredictable ecological changes and uncertain political, economic and technological conditions.
Wallace's three sculptures, Font No. 1 [top right] Knowledge Font [bottom right] and Future Font [middle right], play with the iconic architecture and industrial shapes of Sellafield to create metaphoric 'fonts'. The sculptures offer ways of thinking about a decision outside the everyday and its usual procedures.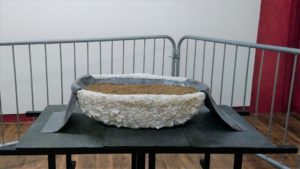 Fonts are devices for acknowledging the past, for marking the present and sending hopes for a future. The sculptures ask about what kinds of knowledge will be useful; what different forms of clean-up and remediation will be needed; and what it feels like to care for the soils, waters, stones and living beings on whom these generations of humans depend.
The exhibition was part of the 'Sellafield Site Futures' project by an interdisciplinary team at the University of Manchester, looking at the contentious history and future of the site. The researchers hosted three workshops in the summer of 2019 in Whitehaven, bringing together participants from West Cumbria, some affiliated with the nuclear industry and supply chain, others working in the arts and heritage sectors, scientists and ethicists, and others engaged in conservation and ecological initiatives. The sculptures are a response to the questions and conflicts that were raised.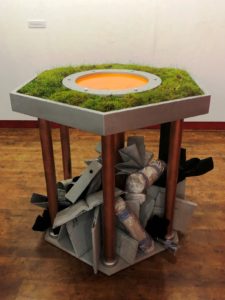 The exhibition was supported by the University of Manchester's Beam research network and the Dalton Nuclear Institute and is funded by the UK Energy Research Centre (UKERC).
Talks:
Wallace and Petra Tjitske presented 'An artistic intervention in post-industrial landscape engineering' for the 'Indeterminacies' online conference, Scotland, 2021; and gave an online talk at the Vienna Anthropology Days Conference, University of Vienna, October 2020. Wallace presented the exhibition as part of her session on 'Play, Shame and Care' for the 'Becoming Earthly' project by The Barn arts centre, Banchory, Scotland, September 2020.