Curation takes many forms. Events, like BETWEEN NATURE, a performance event and conference in 2000, was the first major international, inter-disciplinary event on ecology and performance. Online exhibitions and projects have brought together artists, activists, cultural commentators and theoreticians around a question. Included, too, is the organisation of screenings and talks.
I also include the facilitating of conversations and dialogic events.
Current
With Prof. Pauline Phemister, from the Philosophy department at the University of Edinburgh, I organised and facilitated a series of four Councils on the Uncertain Human Future in 2016 – 2017 as part of the Uncertain Human Futures project initiated by Dr. Sarah Buie at Clark University in Massachusetts. With the Rev. Dr. Harriet Harris, we are currently facilitating two further Councils for the University. The website for the Edinburgh Councils is here.

BETWEEN NATURE . explorations in ecology and performance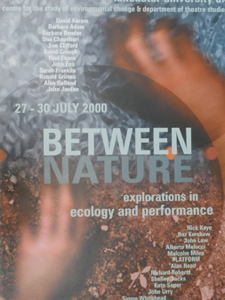 The first international trans-disciplinary conference / performance event to explore ecology and performance was BETWEEN NATURE at Lancaster University in 2000. It was co-curated by Wallace Heim in the Philosophy Department with colleagues in the Centre for the Study of Environmental Change and the Theatre Studies Department.
Speakers and artists included: Alan Read, David Abram, David Rothenberg, Sue Clifford, Ronald Grimes, Simon Whitehead, Una Chadhuri, David Crouch, John Fox, Sarah Franklin, PLATFORM, Shelley Sacks, Kate Soper, John Urry, David Haley, Beth Carruthers, Barbara Adam.