Now
'the sea cannot be depleted', is a spoken word and sound piece for online broadcast, about the Solway Firth, the sense of place that comes with living with that place and about the uranium that the military have dumped beneath the surface of the sea.
Latest
'Theatre, conflict and nature', for Green Letters, the publication of the Association for the Study of Literature and the Environment-UKI, special edition on performance and ecology edited by Carl Lavery, 2016. The journal essay is published by Routledge, Performance and Ecology. What Can Theatre Do? (2018).
'How I love to Moa', an essay on John Lyall's Requiem for Electronic Moa, published in Elemental, edited by James Brady, a publication of GAIA Project Press, Cornerhouse, Manchester, 2016.
Recent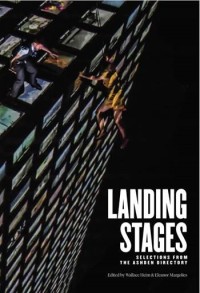 Landing Stages. Selections from the Ashden Directory 2000 – 2014. co-edited with Eleanor Margolies, published by the Ashden Trust.
Landing Stages marks 15 years of the Ashden Directory and Ashdenizen, websites focused on ecology, climate and culture. The book is an online pdf, free to download, available at www.ashdendirectory.org.uk.
CIWEM awarded the Ashden Directory and Landing Stages the Nick Reeves Award for AWE-inspiring projects, 2015.
Book reviews for eco/art/scot/land: Imagining Natural Scotland published by Creative Scotland and Scottish Natural Heritage; [Field_Notes]. From Landscape to Laboratory. published bv The Finnish Society of Bioart; and Art + Ecology Now by Andrew Brown, published by Thames and Hudson.
Publications
The articles and essays shown below from 2003 to 2014 explore conversation, place-based performance, Aristotelian phronēsis, learning as an ecological phenomenon, relational ethics and ethics at a distance, social sculpture, rhetoric, emotions, slow activism. The subjects include climate change, rivers, environmental justice, bananas, ecological sound art, walking, learning, eco-dramaturgy.
The résumé.pdf holds a full list of publications including reviews and interviews.  For copies of an article, please email.
Slow Activism: homelands, love and the lightbulb.
'To come into conversation can be a disturbing thing, exposing, altering and aesthetic. How the conversation is made can conduct the speakers in an unknown direction … To talk with a stranger about love, home and ecological interdependency—while sitting in the back of a large truck parked on a fast-trafficked street—rests those conversations within the social conventions and ethical demands of speaking together in public, while inviting an event into existence, one in which the aesthetic, imaginative, and transformative may be realized…
HOMELAND entered the flux of everyday life, listened and spoke with the city. The longing was, as well, for the public space in which to speak; to not only view a work of art, but to be heard through one'.
key words: Hans-Georg Gadamer, Paul Ricoeur, Aristotle
in B. Szerszynski, W. Heim & C. Waterton (Eds), (2003) Nature Performed. Environment, Culture and Performance. Oxford: Blackwell / Sociological Review. pp. 183-202.
'The question of whether a place can learn requires keeping the subject who learns, but proposes another realm of capacity, the relational field, which is intangible, but not abstract.
The question draws attention, too, towards site-based performance that is concerned with environmental change, with place, with the chiasmus of the human and the other-than-human. The question's heuristic value opens up considerations of how the human performs aesthetically in a life world that has processes and desires outwith and affected by those of the human. How would one perform with a valley, a city edge, a stretch of estuary, a sculpted park if one could recognise or enter that meso-zone of learning, however transient or ill-defined it might be?'
key words: Gregory Bateson, Arne Naess, Jakob von Uexküll
in Performance Research (2012) 17:4, pp 120-127.
Nature Performed. Environment, Culture and Performance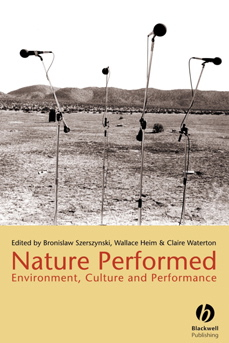 Wallace Heim co-edited this collection, following from the event BETWEEN NATURE, with Bronislaw Szerszynski and Claire Waterton. Nature Performed was published by Oxford: Blackwell / Sociological Review in 2003, and Wiley-Blackwell in 2004.
Contributors include: Nigel Clark, David Crouch, Ronald Grimes, Hayden Lorimer and Katrin Lund, Dave Horton and Matt Watson.
Review: 'A testimonial to the passions, responsibilities and creative activism currently being enacted in areas of environmental concern…the book overall makes an important contribution, with many strong and interesting chapters, and should have appeal across a wide range of audiences.' Environmental Values, 14:4.
'It was hot that day. In the glass-enclosed stairwell, one entered from the top and lowered oneself through strata of sound, the combined acoustics of sharply rippling water and an indecipherable, modulating technology-hum. Sunlight refracted in clear jars holding water and wet mosses, grasses and reeds. Nearby, but not visible, to the east, from sunrise to sunset, Simon Whitehead was walking Clougha Pike, the fells Hare Appletree, Rowton Brook and Black, listening, searching for the waterways under the crust of land, the gravity-drawn streams and the defiant, emergent springs.
Simon relayed the sounds of water by mobile phone to Barnaby Oliver, who, in the stairwell, projected those sounds through a system of cascading speakers … One felt as if deep inside the flow as the sounds became geological and evolved into a meditative harmonic texture'.
in Whitehead, Simon (2006). Walking to Work. Abercych: Shoeless, pp 84.