20 Jan

'We slip. We bind. We beg.' and 'The golden oar'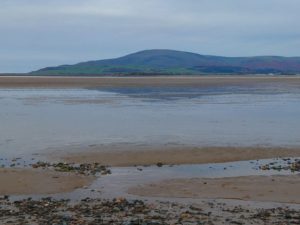 These two audio fiction pieces inspired by the Duddon Estuary in Cumbria were written by Wallace and performed live by local actors as part of 'Unpublished Tour', a collection of commissioned artworks about the estuary curated by Irene Rogan.
Audio recordings of the performances are online.
'What do people say to a place, to a landscape or seascape, while they are walking or watching? What words do they come up with when talking to themselves, words that connect them with a place and with the more-than-human? How do people declare their feelings for a place, while their thoughts might also be melded with the events of the world, overpowering ideas, sorrows and secrets and the chatter of everyday life?
I'm interested in how a monologue by a fictional character can be a kind of writing about a place, writing that is somewhere between a first-person essay, spoken word, a narrative and sensed observation. Writing fictional voices is a way to experiment with ideas and emotions, to try them out. This is a writing that needs to be performed, realised in the human voice sounding into another human ear.'
'We slip. We bind. We beg.'
As man walks on the Duddon shoreline, he talks towards the seascape as if the estuary had an ever-changing face. He has begun to feel something strange in the storms and in the calm, bringing him to speak to it, face-to-face. Performed by Kevin McNally.
'The golden oar'
A woman finds herself burying small things in shallow cuttings on Black Combe as a way of celebrating the fell with tokens of human love. She connects her actions with historical excavations and possible future ones.  Performed by Marianne Walsh.
Photo: Black Combe from across the Duddon Estuary at Roanhead