Upcoming presentation
Wallace is participating in Art Gene's Extreme Views THINK TANK, on the future of Barrow-in-Furness, April 2019.
Recent talks
Presentation and discussion of 'the sea cannot be depleted' at the seventh 'Nuclear Futures' Seminar, Sheffield, September 2018.
'The sea cannot be depleted' for the workshop 'Beyond the Anthropo—Scenes, Mediums, Apparatuses and Environments', at the Institute for Advanced Studies in the Humanities, University of Edinburgh, 19 May, 2017.
Panel member for Creative Resistance? Resilient Futures? at Whitworth Gallery, Manchester, September 2015 as part of GAIA: Resonant Visions, the artistic programmes for the Society of Ecological Restoration (SER) conference curated by James Brady
The rich build walls against the wild and so they desire it', a talk for The Wild Project at Primary, Nottingham, July 2014
Keynote and respondent for 'A Return to Pre-Modernity', film programme curated by Victor Wang at the Institute of Contemporary Arts, London, August 2014. The films were: Amphibious (Login-Logout) by Jennifer Allora & Guillermo Calzadilla;  Tônus | 2012 by Rodrigo Braga; and 'Beau Geste' by Yto Barrada.
Conference papers, talks and panels from 2000 – 2014
The talks below explore emotions, walking, giving an account of oneself, Aristotelian phronēsis, conversation, learning and experimentation, relational ethics, kinaesthetic empathy, extinction and banality. Subjects include climate change,  sound art, scientific fact and value, global commodity exchange, metaphor and materiality.
For the text of any talk, please email. The résumé.pdf lists all talks.
Changing theatre: fugitive natures in darkened rooms
This talk was the warm-up act for two performances: 'Volcano' by Clerke and Joy and 'The 'See You Later' Capital' by Massive Owl.
'I was asked to talk about 'environmental theatre', but discovered that both Clerke and Joy and Massive Owl do not want to be identified with anything environmental. How could these two plays about the vastness and unpredictability of geology – the volcano –  and the indeterminacy in the metabolisms of human social, economic and artefactual systems – which is the transience of the city and capital – not be thought of as ecological?
It's a common response. There's an embarrassment about 'nature' that has to do with the history and habits of theatre …
Theatre borrows. It's a porous form. Much current environmental-ist theatre borrows the languages from other kinds of environmental knowledge, and accepts them, works with them, even places them onstage.  This borrowing of languages can often represent a limitation of experience and of imagination, as if sufficient knowledge existed through these other disciplines and practices and it was up to theatre just to adapt or translate in a theatre-kind of way.
I want to argue strongly for developing methods for inquiry, methods for devising and practice that will open up experience and creativity in ways that explore and meddle with nature-human relations, and for being impatient with the existing practices and conventions of theatre.
I'm looking forward to the day when, in addition to the critical work that finds what is essential about theatre at any given historical time, that marks its evolutions, whether that's by the ideas of presence, or the unmarked, or the post-dramatic, there will be concepts that we haven't thought of yet, concepts that describe theatre's way of making evident, of showing, of bringing into presence, the human as related to the other than human'.
at University College Falmouth 2013
Culture and climate change
In response to climate instability, new ways of making art, new languages – and new ways of recognising what counts as art – are developing. There are new relations forming between artists, scientists, politicians, the legal system, activists and communities. It is a subject that presents many tensions for artists, and these, in themselves, uncover wider assumptions about the arts, and about how we understand climate change.
Works presented: Greenhouse Britain (exhibition, Helen Mayer Harrison and Newton Harrison), The Contingency Plan (theatre play, Steve Waters), And While London Burns (audio walk, Platform), Endangered Species (dance and installation, Siobhan Davies) and Feast on the Bridge (public celebration, Clare Patey)
http://www.youtube.com/watch?v=6PYtD-jB_Uw
at Climate Change Symposium hosted by Help Rescue the Planet, London 2012
Improvised reason and unsettled accounts: experiencing the ethical in social practice art
'The ancient Greek idea of Parrhesia means to speak frankly in public about oneself when asked to do so by another person, not as a confession or autobiography – but to demonstrate there is a relation between the rational discourse that one uses to explain one's life, and the way that one lives. The purpose, quoting Foucault, is 'to convince someone that he must take care of himself and of others, and this means that he must change his life.'
There is a moment in conversation-based art practices, between taking in the art work, and speaking in the art work, a moment that can cause people to fall silent, and in which there is a yearning for the account of one's life – which is to be given – to be other than it is'.
key words: Judith Butler, Michel Foucault, Aristotle, ethics
at Desire Lines, Art + Ecology, Dartington College of Arts 2006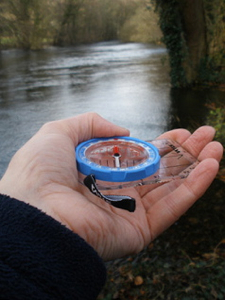 'The term 'sustainability' directs one towards a vague future while tabulating the present. One might calculate one's position relative to an optimum emissions target. But one doesn't fall into sustainability as one falls in love.
Metaphors do things, they are performative. Metaphors 'graft together' different fields of meaning. And this is a process in which, to quote Paul Ricoeur, 'imagination is diffused in all directions, reviving former experiences, awakening dormant memories, irrigating adjacent sensorial fields'. The playfulness of metaphor, its absurdity, its irreverence, its defiance of gravity, its mutiny, its profanity, its magic, are what I want to enlist with this project asking artists to suggest their metaphors for sustainability, to irrigate those sensorial fields, whether the metaphors are observant, supportive or critical'.
key words: George Lakoff and Mark Johnson, Gregory Bateson, Paul Ricoeur
at Staging Sustainability, University of York, Toronto 2011