Now
'the sea cannot be depleted', is a spoken word and sound piece for online broadcast, about the Solway Firth, the sense of place that comes with living with that place and about the uranium that the military have dumped beneath the surface of the sea.
Latest
'Theatre, conflict and nature', for Green Letters, the publication of the Association for the Study of Literature and the Environment-UKI, special edition on performance and ecology edited by Carl Lavery, 2016. The journal essay is published by Routledge, Performance and Ecology. What Can Theatre Do? (2018).
'How I love to Moa', an essay on John Lyall's Requiem for Electronic Moa, published in Elemental, edited by James Brady, a publication of GAIA Project Press, Cornerhouse, Manchester, 2016.
Recent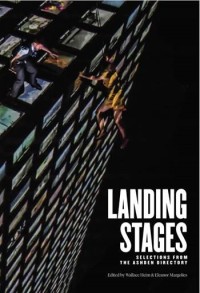 Landing Stages. Selections from the Ashden Directory 2000 – 2014. co-edited with Eleanor Margolies, published by the Ashden Trust.
Landing Stages marks 15 years of the Ashden Directory and Ashdenizen, websites focused on ecology, climate and culture. The book is an online pdf, free to download, available at www.ashdendirectory.org.uk.
CIWEM awarded the Ashden Directory and Landing Stages the Nick Reeves Award for AWE-inspiring projects, 2015.
Book reviews for eco/art/scot/land: Imagining Natural Scotland published by Creative Scotland and Scottish Natural Heritage; [Field_Notes]. From Landscape to Laboratory. published bv The Finnish Society of Bioart; and Art + Ecology Now by Andrew Brown, published by Thames and Hudson.
Publications
The articles and essays shown below from 2003 to 2014 explore conversation, place-based performance, Aristotelian phronēsis, learning as an ecological phenomenon, relational ethics and ethics at a distance, social sculpture, rhetoric, emotions, slow activism. The subjects include climate change, rivers, environmental justice, bananas, ecological sound art, walking, learning, eco-dramaturgy.
The résumé.pdf holds a full list of publications including reviews and interviews.  For copies of an article, please email.
Epilogue for Readings in Performance and Ecology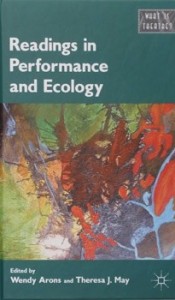 Epilogue: Thinking forward …
'My purpose is to encourage an eco-dramaturgy that not only makes explicit how performance and theatre create particular modes of ecological knowledge, but also to activate the interchange of this knowledge across disciplines and practices, because this is an essential transport in a time of climate instability…
Emotions about nature are implied in interpretations; an ache, or longing, runs through these essays. But the emotions in performance as they relate to nature-human relations is an area yet to be investigated in itself. The capacity of performance to explore unmapped forms of feeling contributes to the efforts to establish performance as a special mode of ecological understanding. It also challenges criticism to find the languages to articulate these emotions'.
in Readings in Performance and Ecology, edited by Wendy Arons and Theresa J. May (2012) New York: Palgrave Macmillan, pp 211 – 216.
Evaluation for Working in Public, a project of On the Edge, Gray's School of Art, Robert Gordon University, Aberdeen
'The practices in the field of art and social engagement are multi-disciplinary, collaborative and composite. The art works involve multiple variations of practices, processes and publics. The talents involved extend beyond those of conventional arts education, into areas like conflict resolution, mediation, ethics, cultural power and ecological understanding.
Working in Public, a collaborative, cross-sectoral project was an ambitious, novel and comprehensive engagement with the field. It exemplified the theoretical arguments, and, as ground-level experience, provided evidence from which assess what higher education can offer as a method and structure for progressing art in the public realm'.
The evaluation was commissioned by Professor Anne Douglas.